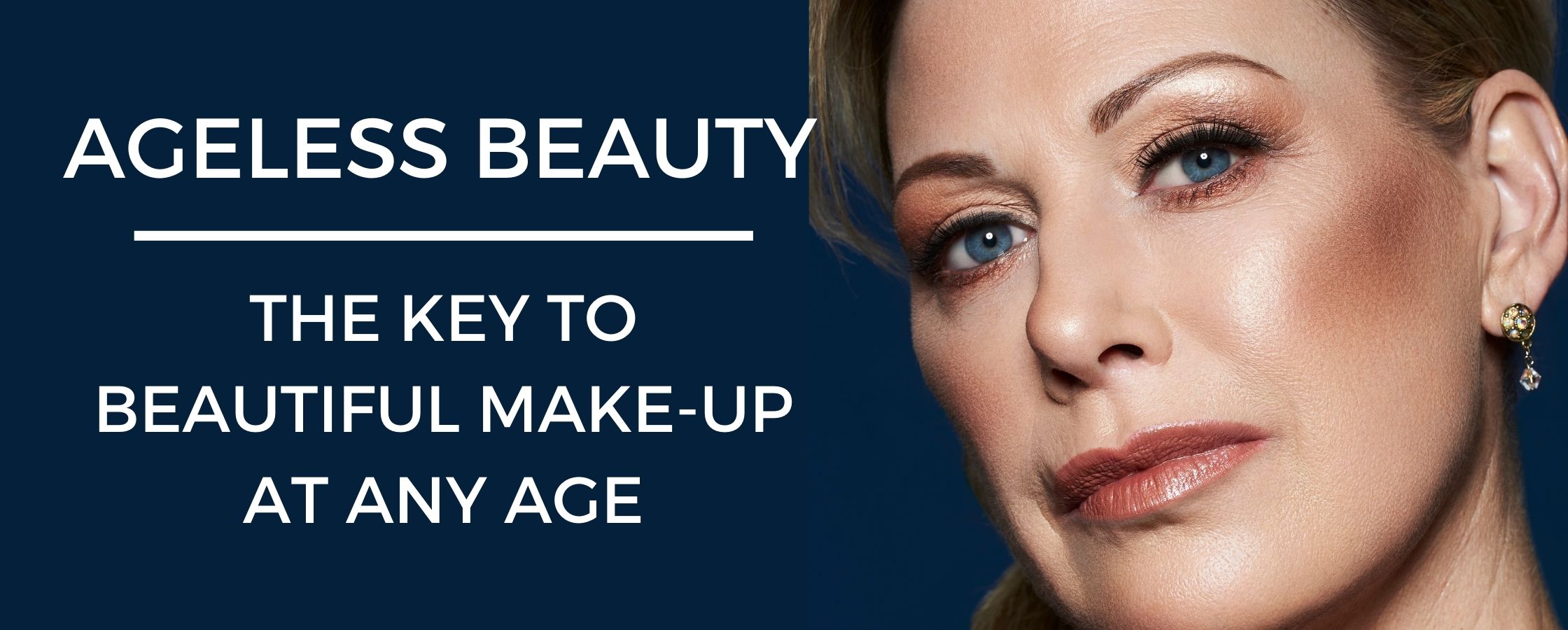 Whether 20 or 70 years old, every face has the potential to display characteristics of expression, aging and/or maturity. Understanding these characteristics can help you understand application techniques and what products to use to create the best version of yourself or your client. 
Ageless beauty is something everyone can achieve with the right choices of skincare and beauty products. Here are our top tips and tricks and product choices for a flawless face at any age. 
Get the right finish.
The ultimate goal for any make-up look is to find the perfect balance in your skin, with the use of the right skincare, preparation and touch up products. 
One common mistake is thinking the "matte" means long lasting and an all day look, While matte foundations can last longer, a common characteristic found in mature skin is dehydration. To.combat that we recommend a dewier foundation with a controlled level of coverage. Our Ultra Cream Foundation is an intensely pigmented creamy formula that gives a natural dewy finish, perfect for an everyday, no-fuss foundation that also comes in a stunning compact for touch ups throughout the day.
If you are looking for a more skin-like finish our

Ultra

Fluid Foundation

creates a barely-there make-up look while still evening out the skin.
Frame that face. 
One of (if not the most) defining elements of make-up is the brows. Responsible for framing the face and eyes, strong eyebrow definition has become one of biggest beauty trends. 
Even on the lightest of make-up days, a defined brow and light coat of mascara can add an element of refined beauty. The Kryolan Brow Precision Kit was curated to help you achieve your ultimate brows. With your choice of a Brow Pencil and Powder to match your brows perfectly, you can blend and define the perfect shape everytime, and our clear Brow Gel will keep those brows in place all day.
Soft, Smokey or Playful -all day, everyday.
You can go as light or as playful as you want with your eye looks. We just have a couple of tips to help you avoid a creasing disaster. 
Metallic or excessively glittery textures around the eye can exaggerate fine lines and texture. Instead try soft matte shadows to help contour, lift and define the eyes. For a little bit more definition and drama, line your lash line with a cream or pencil liner in black, brown, or a colour with a little more flair! For a long lasting liner with all the colours to choose from, check out our Faceliners here! 
And don't forget, to keep your look staying fresh all day, a little bit of a good Eyeshadow Primer goes a long way, check ours out.
Fake a full night's sleep.
A good under-eye concealer can go a long way but a colour corrective concealer can go even further! Pink,peach and orange shades are perfect to brighten the eye area, and green concealers can take away any unwanted redness around the cheek and nose areas. 
Our Ultra Make-Up Bases are perfect to even out larger areas of skin and our Cream Concealers can cover even the most pigmented dark circles or red noses.
Keep it creamy. 
When we say avoid too much powder on the face, we don't just mean setting! Layer after layer of blush, contour, bronzer and highlighter can also be avoided by using cream products that just melt into the skin and create a glowing from within look.
Try a liquid highlighter! Shimmering Event Foundation can be used under foundation or on the highpoints of the face after the foundation application. With the extra benefit of sunscreen - its the ultimate summer product! Add some colour back into those rosy cheeks with our Lip n' Cheek and pop it in your bag for an all day touch-up!
If you are interested in finding out more about the wonderful world of Ageless Beauty, check out our latest Online Course!
Let us know if you found these tips helpful or if you are thinking of switching up your own routine!
---
September 21, 2020 | View: 1218
---