Keep It Clean With Kryolan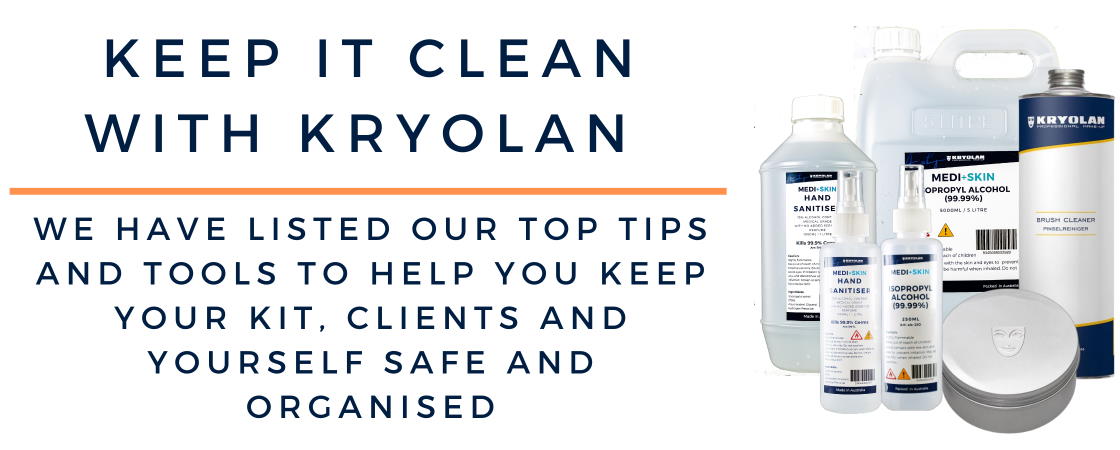 Now more than ever it is critical to the success of the Professional Make-up Artist and their business to have a strict and regimented hygiene process in place.
Poor hygiene practices can lead to an unsafe work environment for all; this can lead to damaging the reputation of your make-up business.
Below we have listed our top tips and tools to help you maintain the highest hygiene standards.
Disinfect those Hands
Starting with the basics, your hands are your most used tool in your kit, so you need to keep them just as clean and sanitised as your brushes.
Simple, fast and effective, Kryolan Medi+Skin Instant Hand Sanitiser helps protect against 99.99% of germs, with no need for soap or water. This hand sanitiser is made with the mandated 75% alcohol content for proven effectiveness.
Sanitise All Tools
As well as removing make-up residue from brush bristles with a quality brush soap , disinfecting the bristles and handles should not be forgotten!
Your brushes are not your only tool in your kit. Tweezers, lash curlers, sharpeners etc. also need to be sanitised between every client. You can cover all your bases by spraying them down with a diluted solution of 70%-80% Isopropyl Alcohol and 20-30% water, leaving them to dry completely. 99% alcohol should never be used to clean brushes and tools as it does not have the same disinfecting power.
The Medi+Skin Isopropyl Alcohol Spray 250ml is the perfect size to pop in your kit.
Buy in bulk and save with our current back to business offer! Originally $196 now only $99 for 20L! This multi-buy pack is perfect for your school, salon or office!
We also have these handy 250ml Empty Spray Bottles for easy decanting!
Stock up on disposables
Completely eliminate the chances of cross contamination - use & dispose! Where possible disposables are they way to go!
Always ensure that you are fully stocked with all your disposables before any job. Keep them close at hand and easy to grab from a disposables box, right in the centre of your work space.
Disposables all artists should have on hand:
Say no to double dipping
When it comes to make-up hygiene, double dipping is a big NO-NO! We highly recommend filling your kit with products that are easy to decant such as loose pigments, powders and cream foundation palettes.
Make decanting an easy process with our Mixing Palette and Spatula!
Don't sanitise your products!

Ensure you are sharpening lip and eye pencils, and if pressed powders must be used, absolutly ensure a fresh clean brush is used as well as wiping down the top layer of pressed powders before and after every client.
99% alcohol or other make-up disinfecting sprays should never be used to clean make-up products as they can be harmful to the product and could deteriorate or seal it! They also dont have the appropriate effectiveness as disinfectant.
---
January 27, 2021
|
View: 135
---