What Causes the Oxidation of Foundation?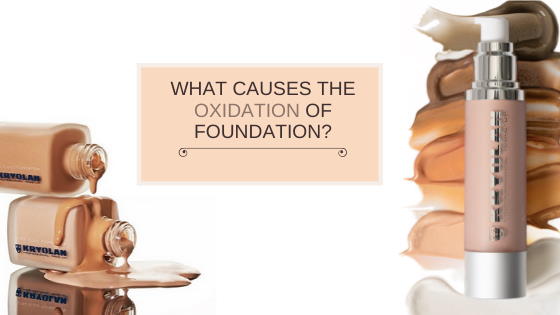 Kryolan Professional Makeup provides a wide range of reliable makeup foundations to suit every age, demographic and skin type. Selecting a professional product will ensure results that last throughout the day and into the evening. Given that foundation is an essential part of our makeup routine, we have provided a quick introduction into what constitutes professional makeup and what could be causing your foundation to oxidate. Today, we are spoilt for choice when it comes to makeup. We are constantly on the search for cosmetics that will enhance our natural beauty or that make a statement. Foundations are a notable staple that most people cannot live without.
Have you ever purchased a product, in this case a foundation that you thought was spot on in the store only to get home and realise that after a few applications the foundation shade seems to be darker? Don't worry, you are not seeing things! The product when exposed to air oxidises, remember the examples seen on many commercials over the years, when an apple is cut in half and during a short period of time the apple discolours to a shade of brown. It all comes down to the product coming into direct contact with the air, the oxygen molecules consequently steal electrons and cause the products degradation. While no single ingredient is exclusively responsible for the oxidation of foundation it is simply the interaction between the oils and pigments within the foundation that then react with the skin's natural oils, acidity and humidity in the air. The most noteworthy contributors are water and acidic pH levels. The pigments of most make up foundation formulas that have such contributors consequently oxidise and degrade.
How do we avoid the oxidation process? Try a foundation that is not water-based, formulas that are free of water have more stability. If you prefer a water-based foundation that is a-ok, it is essential that no matter if it's oil-based or water-based that you look for foundations that are a Professional Grade, it's all about quality and ingredients!
We recommend that you always start with a Primer first, this creates a barrier between your skincare and the natural oils your skin produces throughout the day. Once you have applied your foundation, tap on a little powder to set and go! This three-step process Prime-Foundation-Powder will help you achieve long-lasting, flawless coverage.
Kryolan has been committed to creating state of the art products, used by industry professionals globally as the go-to brand for the best results. We continuously work closely with dermatologists around the world, conducting clinical tests to ensure that we bring the best and safest products to the market. At Kryolan we believe 'Makeup is a Science' our extensive product range, including our foundations are designed with this in mind to bring you a safe, durable and flawless finish.
We invite you to explore our range of professional products today! If it you are looking for a soft no-makeup look or a full coverage finish we have a range of foundations to suit all makeup lovers. When it comes to makeup foundations, let us introduce you to our bestseller… the Kryolan TV PaintStick Foundation. This is an absolute cult favourite, ideal for all skin-types and those who seek a durable, medium to full flawless coverage foundation.
If you prefer more of a dewy-finish foundation without compromising the coverage, look no further than our Ultra Foundation. This medium to full coverage foundation will provide you with a beautiful flawless radiance.
Fancy a sheer finish that reduces the appearance of wrinkles with its unique formulation and light reflective qualities… The HD Micro Cream Foundation is the one for you. If a powder is more your style, check out the Dual Finish Foundation. The creamy formulation of this pressed powder makeup means it is suitable for a wet or dry application, the perfect touch-up tool for on the go! Kryolan is your one-stop-shop for your individual makeup needs. Please visit us today at www.kryolan.com.au or come in and see us at one of our professional makeup store locations.
We look forward to seeing you soon to help you achieve your perfect base!
The Kryolan Education Team
---
August 26, 2020
|
View: 479
---