Meet our 2021 Student Kits | FOR BEAUTY SERVICES AND CERTIFICATE III IN MAKEUP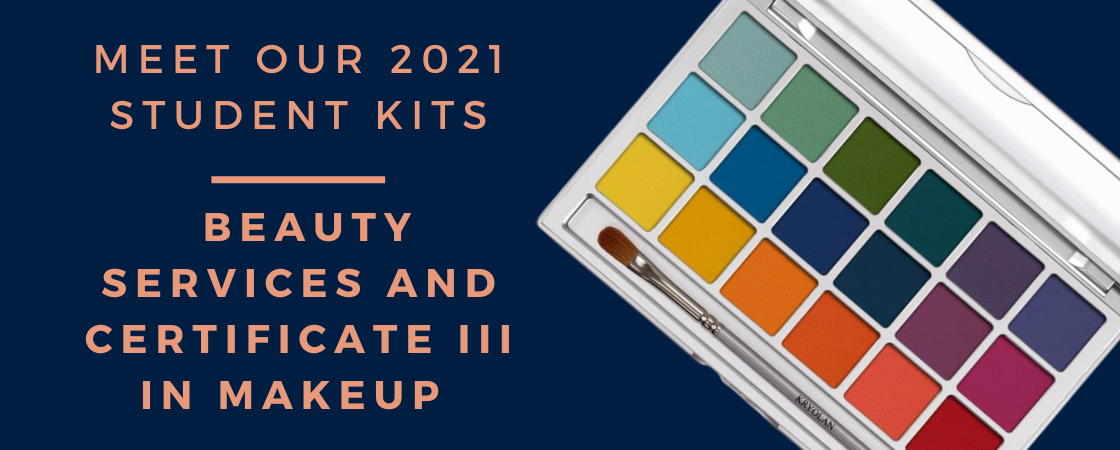 When you're a busy makeup artist or educator, a well-stocked kit that's ready for any client and situation is top priority!
Our beginner and student kits have been curated with this in mind. Give yourself or your students, the professional difference in 2021 with a Kryolan Professional Make-Up Kit.
Why Kryolan?
Kryolan is widely regarded as the global make-up industry standard. From celebrities through to film, theatre, runway shows and the everyday beauty consumer, we have been proudly supplying and supporting this dynamic industry since 1945. Using only the highest grade ingredients that pass all European safety standards, our products are designed with safety & professional needs in mind and cater for diverse skin colors and tones that represents our society values. Its products are suitable for sensitive skin and proudly cruelty-free since our inception. Safety, reliability and film & photography compatibilty are the key characteristics of professional make-up formulation objectives.
Kryolan delivers a safe, reliable, range of high-quality products designed for the professionals, used & loved by beauty consumers throughout 100 countries who demand premium quality products.
Use of Kryolan products in class and by a beauty & make-up school symbolizes Quality & Professionalism & Integrity in their delivery of the qualifications; it also reflects the quality of the make-up course the school is delivering as well as the integrity of the school in having their students' best education outcome in their mind .
Some of our kits featured for the year 2021
This kit is designed for Certificate III in Make-Up. Designed to be the ultimate beauty kit, it covers the following units:
SHBBMUP002 – Design and Apply Make-Up (Core)
SHBBMUP003 – Design and Apply Make-Up for Photography (Core)
SHBBMUP004 – Design and Apply Remedial Camouflage Make-Up (Core)
SHBBMUP006 – Design and Apply Creative Make-Up (Core)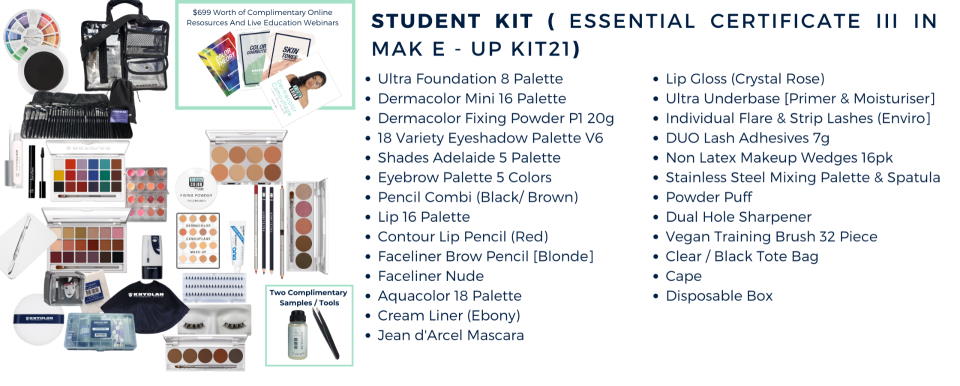 BEAUTY BASIC
This kit is designed for Certificate III in Beauty Services and the Diploma of Beauty Therapy makeup modules and is well rounded enough for students to head into freelance work with confidence.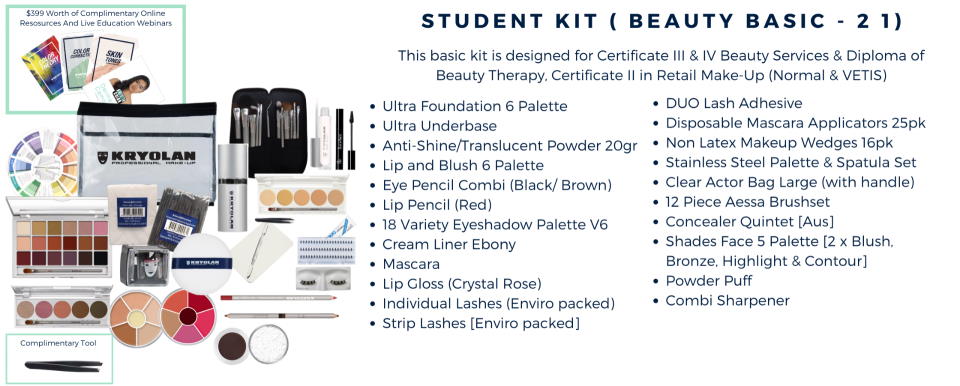 With the basics to cover the following units:
SHBBMUP002 – Design and Apply Make-Up (Core)
SHBBMUP003 – Design and Apply Make-Up for Photography
And the inclusion of the Dermacolor Concealer Palette, means that this kit can also be used to cover the basic requirements the Remadial Camouflage Unit.
SHBBMUP004 – Design and Apply Remedial Camouflage Make-Up
All of our beauty kits come with complimentary resources including full access to our Online Resource Library and our Live Webinars!
Here are some of the products that stand out in our kits!
Ultra Underbase is a universal water based primer that also acts as a moisturiser before applying a flawless base.  This primer is perfect for a beginners kit as one product can be used for both skin prep and priming.
Ultra Foundation will be your new foundation favourite, designed for professional use and to match all kinds of skin colours and tones.  With its excellent pigmentation and density that is not too thick for delicate areas it works as an excellent under-eye concealer. It is suited to all skin types including dry and mature skin.
The main features of the Dermacolor Camouflage creams that has made it so popular throughout the world, are its incredible durability and intense coverage. The Dermacolor creams not only relate directly to the course unit SHBBMUP004 - Design and apply remedial camouflage make-up but are also amazing concealers and correctors for photography and beauty.
This versatile face palette features bronzer, contour, highlighter and blush all in one that covers a large range of skin tones and can also be used as a subtle eyeshadow.
Kryolan Variety eyeshadow palette is truly the ultimate eyeshadow palette. Pigmented, creamy and durable, it will let you create an exciting variety of looks with its extensive range of shades. Use this array of warm and cool tones in matte and shimmer formulas on the eyes, face and body.
Our extensive colour ranges of pencils are great value and quality. Longer than standard makeup pencils these pencils are cost effective long-lasting and long-wearing in a formulation firm enough not to smudge but soft enough to blend. Perfect for eye lining, filling in brows and defining your lips.
Water resistant and easy to apply, the Kryolan HD Cream Liner is a highly pigmented cream perfect for your precision lining and highly effective as a cream eyeshadow or eyeshadow base with its setting power and durable finish.
Aquacolor is a water-based make-up that is incredibly colour-intensive and universally applicable, primarily as a make-up for face and body painting but can also be used  as and eyeshadow base. Perfect for the creative and editorial applications in the unit SHBBMUP006 - Design and apply creative make-up. Aquacolor Palettes are ideal for a multitude of different creations.
100% Hand Made Human Hair Lash. These ultra-lightweight, natural-looking lashes are perfect for all occasions. Our Envirolashes uniquely differ due to our more environment friendly implementation of decreased packaging with sustainability in mind.
The Kryolan 32 piece training makeup brush set provides you the ultimate collection of vegan makeup brushes. It features an exciting range of 32 professional brushes makes it the perfect toolkit for students and artists
Health, Safety and Hygiene will be ever more important in 2021. Our disposables and tools such as a stainless steel mixing palette and spatula, capes and sharpener ensure you maintain heightened safety measures and for those who want to double down this most important component of make-up artistry.
For any further information including all question regarding pricing, please contact our head office on 03 9580 8122 or email us at sales@kryolan.com.au
---
November 16, 2020
|
View: 259
---