Meet Our 2021 Remedial Camouflage Make-Up Student Kit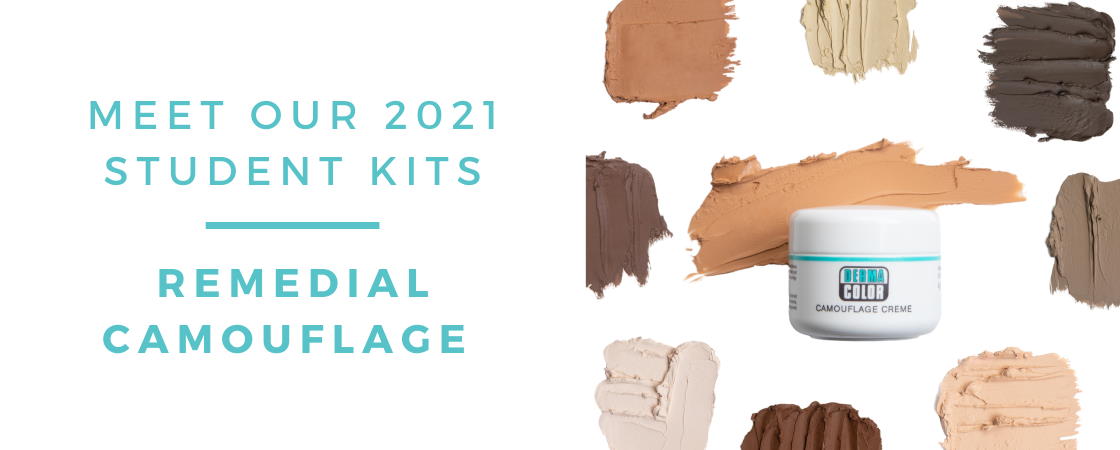 Make community health, safety our priority in 2021. Meet our Dermacolor Remedial Camouflage Kit!
The Dermacolor Camouflage System is our paramedical line designed to correct and cover skin disfigurements, discolorations and tattoos. It is the globally recognised leader in the field of Remedial Camouflage Make-up and widely used by dermatologists, doctors and consultants. In Australia, our clients include Fiona Woods Burn Center, Australia Cancer Research and Hospitals across the country.
Its versatile textures and formulas have also made it the go-to products for make-up artists world-wide for bridal, fashion, theatre and even for SFX designs. It is regarded as the secret weapon for a long list of Oscar and Emmy Award winners such as Michael Westmore, Kevin James Bennett, Lesley Vanderwalt, Ve Neill, Mark Coulier, Peter Frampton etc. For many of the top bridal makeup artists in the world, Dermacolor is the Must Go-To top secret tip for bridal make-up to survive the day especially in hot and humid climates.
It is important to understand the field of Remedial Camouflage is products and techniques designed for use on the skin in its most sensitive and vulnerable state such as post surgical and post trauma situations, normal cosmetic concealers are not designed for Remedial Camouflage purpose, and cannot live up to the abilities and safety standards that Dermacolor is specifically designed for. For community and client safety, It is imperative that students learn to use and prescribe correct products for clients with distressed and vulnerable conditions.
A key aspect of Remedial Camouflage Make-Up descipline is about ensuring the right product for the right service. We all have the duty of care to ensure students leave the course with the education and confidence behind them so that they are able to correctly use and prescribe the correct products on their future clients.
With proper use of the Dermacolor Camouflage System, skin abnormalities can be easily corrected. Once Dermacolor Camouflage Cream is fixed using Fixing Powder and Fixing Spray it will be waterproof and protects the skin against damaging UV radiation.
Dermacolor Camouflage can last even under extreme conditions like swimming, heat and physical strain; this was a key objective in the formulation of the system to ensure that those who use it would have the ability to lead a normal life, without fear of their make-up deteriorating throughout the day.
The Remedial Camouflage student kit has been designed to cover the SHBBMUP004 – Design and Apply Remedial Camouflage Make-Up unit for Beauty Services and Certificate III in Make-up. The purchase of the kit also entitles students access to our Remedial Camouflage Online Education Resources.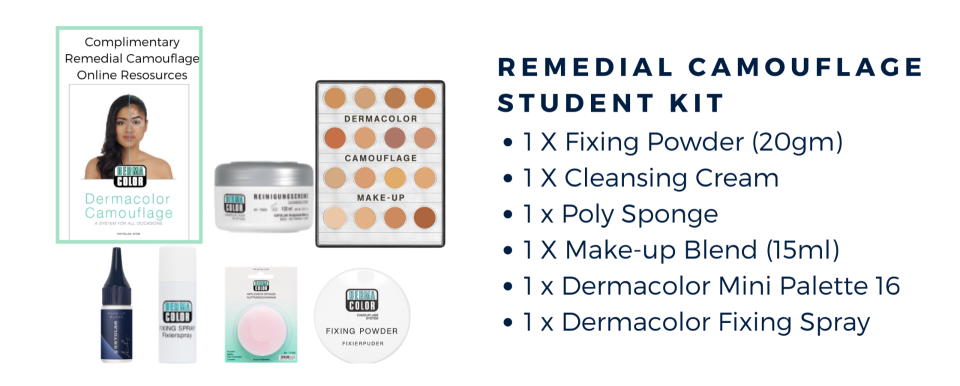 Here are some of the products that stand out in our kits!
The Dermacolor Fixing Powder sets, mattifies and waterproofs the Dermacolor Creams to create a long-lasting amazing finish making it perfect for all day photo-shoots, bridal and formal make-up!
Make-up Blend is an innovative clear liquid transforms cream products into a smooth liquid consistency providing an easy, fuss-free application. Make-up Blend can also sheer down product thickness without removing the level of coverage and pigment.
Kryolan Dermacolor Camouflage Cream mini palette is an extremely handy mini palette of 16 different Dermacolor tones a little bit does go a long way with Dermacolor Creams so this palette will last! Colours can be mixed easily to achieve so you are guaranteed to have the best concealer with perfect match every time!
Dermacolor Fixing Spray is the perfect last step for any make-up application! Not only for the face, but it can be used on the body to complete the Dermacolor system and for an added layer of protection with the addition of an SPF 20.

For any further information including all question regarding pricing, please contact our head office on 03 9580 8122 or email us at sales@kryolan.com.au
---
November 19, 2020
|
View: 274
---