Must Have This Halloween: Kryolan Bloods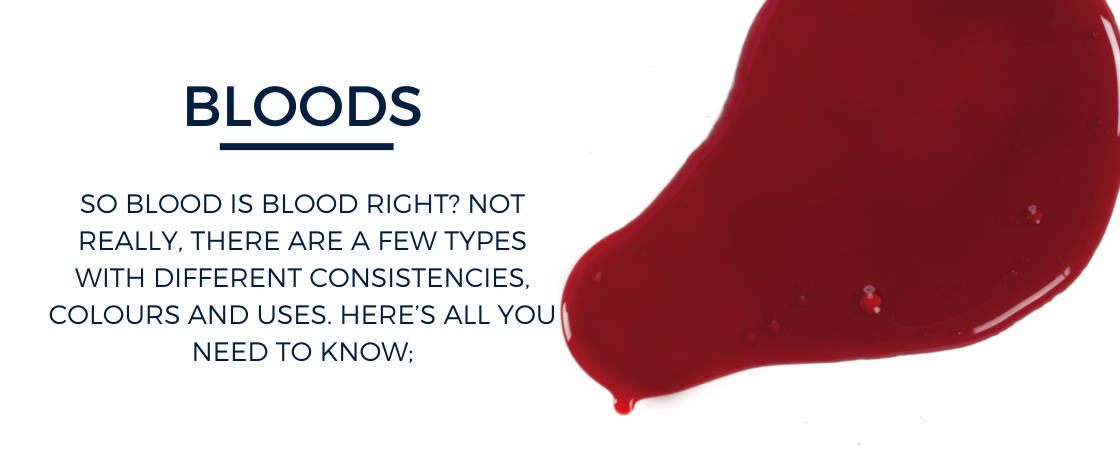 I can't believe its not real blood?
Halloween just keeps getting closer and closer! You have your ultimate costume idea but it just needs that something a little bit extra. That's where we come in with a little guidance on how to choose fake blood for all of your Halloween or wardrobe needs.
So blood is blood right? Not really, there are a few types with different consistencies, colours and uses. Here's all you need to know;
FX Blood
Our #1 selling blood!
A classic in the blood world, this FX Liquid Blood remains fluid for a little while but will dry down with a shiny finish that keeps it looking like wet blood! The product may stain fabric so a patch test is suggested. This product can be applied near the mouth but not in it.
Vegan - Fragrance free
A classic in the blood world, it stays looking wet even after drying down!
Supreme Blood Internal
Our latest and greatest bloody creation is the Supreme Blood Internal. Based on a sugar solution with food quality ingredients allows this product to be used inside and out (of your mouth and nose that is!). It looks like real blood, dries like real blood, ideal for your next Halloween look or if you're in the industry its perfect for theatre, TV & Film.
Vegan – Gluten Free - Paraben free - Free from preservatives - Fragrance free
Supreme Blood External
Similarly to its internal twin, the Supreme Blood External is based on a sugar solution made with cosmetic grade ingredients; this makes it harmless to the skin. It looks like real blood, dries like real blood, ideal for your next Halloween look or if you're in the industry its perfect for theatre, TV & Film.
Vegan – Gluten Free - Paraben free - Free from preservatives - Fragrance free
HD Blood
Made for the screen, this HD Blood was created to be the perfect imitation of real blood and formulated for HD cameras. The viscosity of the product allows it to pool but can also be manipulated to flow directionally for wounds that are fresh and still bleeding. HD Blood is washable from most fabrics and does not stain on skin after washed off with soap and warm water
HD Blood Gel
Though identical in colour and quality to the HD Blood, this HD Blood Gel is much thicker making it perfect to fill wounds like bullet holes and deep cuts and pairs well with the HD blood to create runny fresh wounds. Once again, this blood is amazing for HD filming and photography!
Wound Filler
If you're looking to create something really nasty like a large open gash, Wound Filler is the ultimate fake blood! Easy to apply and super realistic, this jelly like blood can be with its coagulated texture creates irregular clumps of blood like matter perfect for building up or filling in wounds. Don't forget to mix and match with some FX or Supreme blood to take it to the next level!
Fresh Scratch
Fresh scratch is perfect for scabs, cuts and scrapes new and old! The dark shade creates an old clotted effect on the skin whereas the lighter shade simulates fresh and new scratches! This blood will dry down and set with a shiny look like it is still wet. The product may stain fabric so a fabric test is recommended. This works well with other bloods such at FX blood or the HD Blood.
Fragrance free - true to camera – buildable - durable
Special Blood
Need a blood for every occasion? Our Special Blood is perfect! Not only is it a stunningly high pigmented blood, perfect for Film and Television cameras, but it just won't stain. I know right? Blood that washes out of virtually all textiles and clothing? A cosplayers dream! Also safe for around and in the mouth and nose!
True to camera - Colour intensive – Shiny - Highly pigmented - Easily removable
Eye Blood
Eye Blood is the perfect finishing touch on any gory look, from a vampire to a demon even a zombie! Just a couple of drops will transform your eye colour and create deeply pigmented tears.
Do not use in irritated eye or with contact lenses. Do not keep in use longer than one month after first opening. Keep Refrigerated after opening.
Blood Powder
This Blood Powder holds a magic secret! Once dusted over the skin, at first it will seem invisible but as it comes in contact with water or corn syrup it appears as a splattered or cut effect. You can also drag a wet knife across powdered skin for a bloody cutting effect.
Magic Blood
Much like its powdered twin, this liquid Magic Blood creates a real-time cut effect! When the two part system touches, the clear liquids combine to become a bright red wound. Once part A is applied and has dried down, you can use Part B on a knife of as a spray to activate that red effect!
Remember everyone: blood is not only much thicker than water but its much more difficult to get out of carpet!
---
October 16, 2020
|
View: 188
---